In Memory
James Penn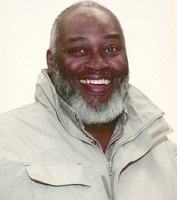 James William Penn, 65, died Saturday February 23, 2013 in Indianapolis, Indiana.
A native of Paris, KY he was the son of the late Leslie O. and Mary Green Penn. He was a retired Counselor at the Plainfield Correctional Facility, in Indianapolis, IN. He was also a member of the Eastern Star Church, Indianapolis, IN and was baptized at the First Baptist Church, 8th St., Paris, KY and was a veteran of the United States Navy.
He is survived by one son and daughter-in-law, Jamal and Courtney Penn of Indianapolis, IN; three sisters, Margaret Penn of Windsor, CT, Betty Penn of Beltsville, MD and Ethel and Bill Jones of Paris, KY; five nieces and nephews, Mike and Lisa Jones, Bill and Donna Jones, Nakita Jones, Brandon Jones and Vanessa Jones and a host of cousins and friends.
In addition to his parents he was also preceded in death by one brother, John L. Penn.
Funeral services will be conducted at 1:00 PM Friday March 1, 2013 at the First Baptist Church, 8th St. by Rev. Dr. Morgan Gilkey. Burial will follow in the Cedar Heights Cemetery.
Visitation will be from 11:00 AM Friday March 1, 2013 until the hour of service at the church.
Pallbearers will be Bill Brack, Clyde Marks, Charles Trumbo, Joseph Henderson and Tyrone Tucker.
Honorary Pallbearers will be John Rankin, Bill Washington, Louis Foster, Rodney Woods, Melvin Beatty and Clifton Garrard.
Flower bearers will be Rosetta Marks, Edwina Smarr and Augustine Fields.